Coming up with unique approaches on offense can be some of the most fun for any basketball coach. It's important, however, for coaches to understand the skill level of their squad before imagining elaborate offensive sets. While the Chicago Action in basketball is widely used at both the NBA and NCAA levels, this offensive set can be integrated at the youth and high school levels with the right team.
Chicago Action involves two common basketball movements, the pin-down screen and the dribble hand-off (DHO). When used together, these two elements can stress any defense and provide the offense with multiple avenues to score. It usually necessitates a talented big who can be an offensive playmaker from the elbow.
This set loads an offense's three most talented players on one end, while the other two perform decoy actions away from the ball. The beauty of this set remains the multiple variations a team can layer into their attack.
Chicago Action Basketball
The basics of the Chicago Action involves two fundamental elements: the pin-down screen and the dribble hand-off. This action engages three of the five players on offense. It can be expanded to involve all five.
The set itself can initiate from four-out, five-out or horns sets. Use this set against man-to-man defenses.
In the four-out configuration, 4 pops to the elbow to receive an entry pass. From there, the 2 cuts over the big to set up the pin-down screen.
To make this truly effective, 1 must set up his defender with a jab step from the corner before cutting up off the pin-down.
4 turns and immediately enters into a dribble hand-off (DHO) situation. 1 comes off the pin-down to receive the hand off. This action effectively gives 1 a pair of screens and forces the defense to make multiple decisions.
1 now attacks the defense as 4 rolls and 2 lifts from the corner. 1 reads the defense. Who is tagging the roller? Is his defender called a switch or is in lock-and-trail position? Depending upon the reaction of the defense, 1 chooses the next course of action. 1 can attack the rim, feed the roll, kick to the corner for a three-pointer or take an elbow jumper.
Away from the strong side of the floor, 3 and 5 can run decoy actions. There can be another pin-down, or a simple exchange. Something to engage those other two defenders and prevent either from sagging into the lane.
RESOURCES:
Get your copy of the Chicago Action Playbook by Coach Vann!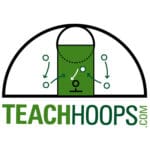 If you found this useful, don't forget to check out additional blog posts at TeachHoops.com. Also, check out TeachHoops on Facebook, Twitter, Instagram and YouTube.