In this ever changing world of trying to find ways to separate yourself from your opponent, it is important to take any step necessary to give yourself an edge over the opponent. We run Rick Torbett's Read and React offensive system in our program and have enjoyed what it has brought to our players. The Read and React sets like the Dribble Handoff can be tailored to get touches in specific areas of the floor.
One area where we as a staff felt like were falling short for our players was in a lack of set plays. We always know those times where we are going to need those quick hitters to get a quick bucket, but we wanted to avoid totally changing our system to just throw in a few quick hitters. What we decided to go with was sets using the principles of the Read and React.
What these sets did was allow us to get quick buckets using our offensive principles. But even if we did not need a quick bucket, it still got our players moving within our offensive parameters.
Read and React Sets: Dribble Handoff (DHO)
If you have a player that is a great downhill driver, this is the set for you! It gets every player on the court moving to confuse the defense. What's more, this Read and React set allows that downhill player an opportunity to make a quick move/decision using the a dribble handoff. This move is also known as a "DHO."
This Read and React dribble handoff set begins with a 5-Out look. This spread formation forces the defense into help side coverage and creates multiple driving lanes.
The set starts with Player 1 making a pass to Player 4 on the wing. Once he initiates the action, Player 1 cuts to the weak side corner, away from his pass. As Player 1 makes his cut, Players 3 and 2 should fill up along the perimeter.
The second action in this set sees Player 4 center the ball to Player 3, then immediately sets a down screen for Player 5. This action occupies the defense on that side of the floor to set up the attacking action of this play.
The attacking action of this Read and React set comes following a dribble handoff. Player 2 should be your team's best creator using a ball screen. The movement of this set brought him to the wing and has opened the lane for a drive.
Player 3 initiates the dribble handoff move with a dribble-at toward the wing. Instead of cutting away from the ball, Player 2 receives the handoff and immediately works downhill to pressure the defense. At this point, both corners should be occupied by shooters. If Player 4 doesn't have three-point range, he can slide up to the short corner. That move, though, could bring a help defender sooner.
As Player 2 attacks the lane, he can drive to the rim, kick out to shooters, or pull up for an elbow jumper.
Ideally, this 5-Out set involves your best shooters to space the floor. Player 2 should be your best decision maker with the ball. Also, this set can be run from either side of the floor to give the downhill driver access to their dominant hand.
---
Kyle Brasher | Gibson Southern High School
Lady Titans Basketball Coach
---
Resources:
Coach Unplugged Podcast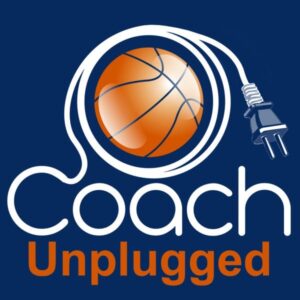 Be sure to check out that episode for some great content on the journey of Coach Torbett, how Read and React came about, and the philosophy behind the offense.
Episode: 901 Read and React with Rick Torbett (Part 1)
Ep: 902 Read and React with Rick Torbett (Part 2)
Ep: 903 Read and React with Rick Torbett (Part 3)
---