For many coaches, the quest for new and engaging basketball pre-game warm up drills seems like it's never ending. And for the coaches who are tired of doing the same old things, sifting through all of the resources online can feel like a daunting task.
The key to any pre-game warm up routine is to get the players physically and mentally prepared. The traditional layup lines can certainly provide movement and the chance to practice an important shot. But too often, this drill engages just two or three of the players on the team. There's a lot of standing around and waiting, and that's not what you want your team to be doing in the run up to a game.
RELATED: Youth Basketball Development, Practice Planning and Drills
The reality is, pre-game is often an underutilized part of the game for many coaches. Instead of passively moving through a series of routine drills, coaches should approach pre-game with the same intensity and focus that's expected of the game itself. The following drills should engage and prepare players of any age or ability.
Basketball Pre-Game Warm Up Drills: Four Corner & Show Time Passing
In this episode from the TeachHoops YouTube channel, Coach Collins and Coach Vann talk through a couple great options for any team.
Four Corner Passing has been a stable of so many coaches, thanks to the great Bobby Knight. While chaotic at first, this drill gets multiple players moving and practicing a key skill. Starting with four lines (two on the blocks and two at the elbows), players pass to the right, receives a pass back and runs through a dribble hand-off (DHO). Players rotate and the lines keep moving. This drill can go right or left and multiple balls can be added as the players improve.
Show Time Passing is another active drill that gets the players moving and thinking. The five line set up features near constant movement from the players, and involves the basic pass-and-cut, give-and-go action that's integral to good team basketball.
Addition Pre-Game Warm Up Sequences
This quick video below demonstrates a few pre-game warm up drills, including drive-and-kick for layups and baseline curl shot sequences.
This video provides an extended look at additional basketball pre-game warm up drills. A solid defensive sequence involves 3-on-3 close outs. It focuses on help-side responsibilities on defense and attacking the basket on offense. In addition, there's a 5-on-5 walk through of offensive sets and a basic, four-person shooting drill.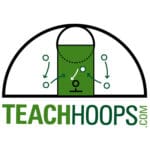 If you found this useful, don't forget to check out additional blog posts at TeachHoops.com. Also, check out TeachHoops on Facebook, Twitter, Instagram and YouTube.