Basketball coaches everywhere are constantly searching for new Competitive Practice Games. Keeping young players engaged throughout a practice period often means mixing up physical warm-ups and stretching, technical drills and competitive contests. Coaches need to layer the information and embed key skills before introducing and installing specific sets.
But running through the same drills over and over can result in bored, disengaged players. Yes, they need to master the basic layup. But running through the same two-line drill every practice might have players check-out on their coach.
Enter the competitive practice games.
Basketball Competitive Practice Games
These games aren't teaching drills per-say. The goal of competitive games is to get your players practicing key skills within the controlled environment of the closed gym. Here, the players are learning as they make their way through the progressions and reads, relying on their teammates to pick them up.
It's important for coaches to allow their players to play through their mistakes and learn as these competitive practice games to unfold. These controlled situations and scrimmages also provide plenty of information for coaching staffs to digest. They're learning the strengths and weaknesses of their teams.
One-Way Basket
This is a full-court competitive game that allows coaches to install a specific play or set, while also practice key defensive principles. In the half court, the offense runs their first action against a full compliment of defenders. If this action results in a basket, then the offense and defense switch. But if the defense gets a stop, then it's a full court game.
The defensive stop flows into transition offense as that squad seeks to score. Only points scored off of defensive stops count in this competitive practice game. This game should flow back and forth for several minutes before coaches change anything.
Emphasis: Defense. Basketball coaches that incorporate this competitive practice game look to establish the mindset that the team needs to focus on getting defensive stops before getting to the offensive end of the floor.
RELATED: Youth Basketball Development, Practice Planning and Drills
Perfection
One of the most frustrating elements of coaching at seemingly any level is dealing with unbalanced teams. Having a starting five that's far more talented than their teammates forces a coach to come up with different ways of maximizing practice time. Since a starting five typically sports a team's top players, scrimmaging the first five against any combination of the rest of the roster might not produce the practice results coaches are looking for.
And on those teams where there's a dramatic split in playing level between the first five and the next five, scrimmages can often become just as frustrating for the players. But it's also important for the best players in the rotation to get practice time together on the floor.
"Perfection" ultimately handicaps the competition, evening the practice floor to make it more interesting and engaging. The idea with this competitive practice game is for the "strong" team to play like normal. They need to be "perfect" and they get points for scores or anything else a coach is looking for. The "weaker" team, meanwhile, has access to all of the normal points, but also could get points for specific accomplishments, like offensive rebounds, forced turnovers, etc.
Emphasis: Attention to detail, competitive balance. While the top players might be more talented than their teammates, this competitive practice game can balance the scales to a certain extent and keep all parties engaged throughout. Afterwards, and this is true of any basketball competitive practice game, it's important that coaches debrief with their players to emphasize specific elements.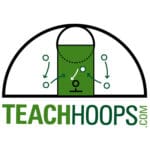 If you found this useful, don't forget to check out additional blog posts at TeachHoops.com. Also, check out TeachHoops on Facebook, Twitter, Instagram and YouTube.