There are a variety of different basketball sets that a coach can run. Some like the 1-4 high looks, some like Box sets, and some like to change it up through all their sets. If a coach has been leading a team for any length of time, they have tried a variety of different set options. Some coaches change them from year to year. This article is going to be looking at three different Point Motion basketball sets that a coach could implement with their team.
We implemented these sets last season for a few reasons. First of all, we had 2-3 players who were really strong with the ball in their hands and going downhill. These sets got our best players in positions where they and our team could be successful.
Second, it clears the lane up for those players to drive. Third, it allowed us to put players who may not be the best ball handlers but are good shooters, defenders, or valuable in other roles for us and keep the ball out of their hands as these drives.
Lastly, we had a solid 5 who could play on the perimeter, shoot the ball a little, and drive to the basket as needed. As you will see in these sets, it helped having a skilled 5 who could do a variety of different things of things on the court. The 3 sets are described in detail below.
Basketball Offense: Point Motion Away
Point Motion Away allows any basketball coach to get a great cutter cutting to the basket and looking to make plays off the catch. This is a really good action if you have a player is great at the LeBron-Catch-and-Go idea that you are starting to see make the waves on attacks.
If the cutter isn't open, the 1 could be open on a screen and pop or the 5 could do some dribble handoff actions on the strong side of the court.
Basketball Offense: Point Motion Middle
This is a great set if you have a guard (especially a 1) who is a skilled post player. It starts with the 5 flashing and the 1 going into the lane for a cut/post opportunity. If that  is not open, it continues with a down screen for the 1 to the corner and the screener could slip.
If neither of those are open, the play wraps up with a dribble handoff with 1 going downhill. The 5 needs to be able to be adaptable to many situations in this set.
Basketball Offense: Point Motion Over
This is quite possibly the most simple of the sets. This is a great opportunity to get the ball into your 1's hands. It gets them going downhill and make reads. They could go to the basket or hit a corner shooter for a 3.
A counter to this play would be the 5 keeping the ball and spinning and going opposite. This is a great example of why you need a 5 the opposing team needs to respect because if they don't the lane will be clogged for the 1.
---
Kyle Brasher | Gibson Southern High School
Lady Titans Basketball Coach
---
---
Resources:
---
Coach Unplugged Podcast: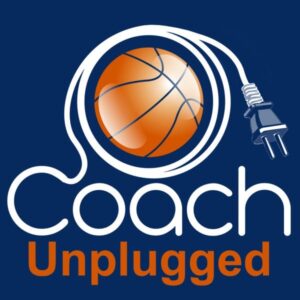 ---

Youth Basketball Coaching Made Easy
If you coach a K-8th grade team, we have hundreds of resources. All laid out in an easy-to-follow, step-by-step system to save you time and money. Check out coachingyouthhoops.com today!
---
If you found this useful, don't forget to check out additional blog posts at TeachHoops.com. Also, check out TeachHoops on Facebook, Twitter, Instagram and YouTube.