Getting good looks at the basket remains the primary focus of most offenses. Although there's value in developing intricate offensive sets, sometimes in a close basketball game, getting a quick hitter releases the pressure and allows your team to thrive. A good basketball playbook features a number of options across a variety of situations, and having a consistent quick hitter is an absolute must.
This is especially true as a season winds down or teams begin their postseason tournaments. You're team's already been well-scouted at this point, and you may have matched up with your opponents more than once. So it's important to keep your opponents on their toes with a fresh playbook. The tricky part remains how to add to our repertoire without providing an extra burden on our players.
Enter the Basketball Quick Hitter series. These simple sets afford any offense release valves that players learn in a matter of minutes.
Basketball Quick Hitter: Post Player Touch
The best basketball quick hitters on offense are designed around getting the ball to your key players in the right spot. This play is particularly effective for teams with a talented post player who has good hands and can finish around the basket. It helps to have your best wing scorer used as a decoy here.
The play begins with your point guard coming up the left side of the basketball court, and Player 5, the quick hitter target, on the opposite block. 1 uses a high-ball screen from Player 4. As that happens, 5 comes across to screen for Player 3.
After the ball screen, 4 pauses at the top of the key. 1 begins a dribble penetration and looks for Player 3, who cut to the right corner. Player 5 acts like he's setting a cross-screen near the elbow as Player 4 clears to the wing. 1 makes the pass to 3 in the corner.
From there, Player 2 sets a cross screen for Player 5. Player 3 looks for 5 as he cuts to the hoop. It's important that Player 5 cuts to the rim and not the opposite block since this is a basketball quick hitter.
If 2 sets a solid cross screen, 5 should be open for a clean touch down low and a layup. Player 3's pass must hit 5 in the hands to minimize the time needed to get the shot up.
If you have a left-handed post player, you can reverse this play. The important part of this play is you want to have the player that screens across for the post (2 in this play) to be a major scoring threat. You want the defense to respect this player and not cheat off onto your post. 
---
Resources:
---
Coach Unplugged Podcast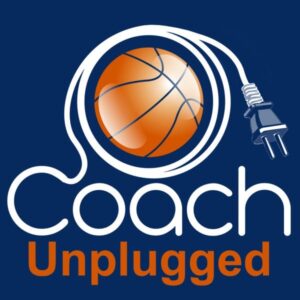 Ep 97: Quick Hitter: Drills and Practice – Quick Hitter and Talking about Drills and Practice
---